Railway Reserves Heritage Trail Half Day Hike - 15th September 2018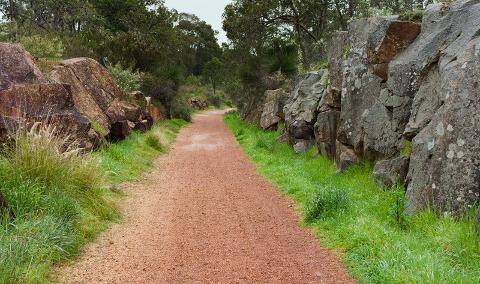 Duration: 6 Hours (approx.)
Location: Bellevue, Western Australia
Product code: PZBCB8
Escape day-to-day stress and retrain your mind and body towards a healthy way of life by joining one of our half day hiking adventures. Hiking takes you away from the hustle and bustle of your daily life putting you into a meditative space, almost like self-hypnosis.
There's a feeling of relaxation and enhanced well-being that comes on after a long hike in the nature, with nature itself offering one of the most reliable boosts to your mental and physical well-being.

Embark on a journey with a guide on a trail as you awaken your senses and reconnect with nature.

15th September 2018 - 7.00am – 1.00pm
Meet at Pechey Rd Carpark at 6.55am
(Please note that sometimes we do go over time, you need to advise the facilitator if you are on a tight schedule)
$35 per person (Max 20)

Includes

Includes: Guided Half Day Hike, Nature Immersion, National Park Fees, Insurances,
A variety of Bushtucker infused slices, biscuits and bliss balls as well as Warndu Bushtucker herbal tea to wash it down.

The north section of the Railway Reserves Heritage Trail is 18 km from Mt Helena to Swan View. The trail has many beautiful points of interest including the Swan View Station and the Swan View Tunnel to the hidden gems of John Forrest National Park, home to two of Perths best waterfalls. This really is a beautiful part of the Heritage Trail.

You need:

Plenty of water, Sturdy Shoes, Hat, Sunglasses, Sunscreen (30+) &/or insect repellent, Clothes to suit the activity & potential weather conditions, Binoculars and Hiking Poles (Optional), Snacks & Lunch


Payment Terms:
Payment can be made via Paypal or Bank Transfer & must be made at time of booking. Cash is not accepted on the day.
Cancellation Policy:
Strict 48hrs notice is required for refund. You are welcome to onsell your ticket if it falls within this time.
The walk will only be cancelled in extreme weather conditions.

Important Info:

This is a unique experience & your full focus is required.
Suitable for most fitness levels. You do not have to be incredibly fit but there are often steps, or steep ascents & descents so you must be able to handle that terrain. Unfortunately we are unable to cater for wheelchair access.

Children are welcome but they must be of an age where they can hike the distance & sit quietly themselves without disturbing yourself or anyone else as we do quiet a bit of reflecting activities & silence is a large part of those activities.